Tour Schedule
SEP
23

TODAY!




September 23, 2017




12:45 pm Saturday

Main Street Music Fest




Ellicott City
OCT
21

October 21, 2017




7:00 pm Saturday

Metro Gallery




Record Release Show
The Big Infinite: Volume One - Out October 20th!
Wes Anderson
September 16, 2017
We're super happy to announce that our debut album "The Big Infinite: Volume One" will be out on all major digital outlets on October 20th!
These songs have been a long time in the making, and they're the most authentic presentation of the band we could possibly put out. It's truly a sound we can call our own...

Big thanks to Drew Mazurek for the amazing production, mixing, and mastering work.

We'll be doing our CD release show on 10/21 in Baltimore. An official announcement on that will be coming soon but save the date!

TRACK LISTING:

1) Lady
2) Still An Animal (re-mastered)
3) Won't Let Go
4) Rebel Burn
5) For A Song
6) Be Cool

Stay tuned for more updates, pre-sale opportunities, and more!
Rock & Yoga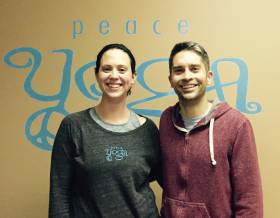 As part of their partnership with the Ed Lally Foundation, the members of Big Infinite participated in a "Rock & Yoga" event at the Peace Yoga studio in Bel Air, MD. Big Infinite played an acoustic set during a 75-minute Vinyasa class held by instructor Debbie Welch. The "Rock & Yoga" fundraiser was part of the foundation's on-going efforts to promote holistic methods of treatment for depression and anxiety.